With more than sixty of the world's most envied horses, Arabian Nights is Orlando's #1 dinner show.
No other Broadway-style production combines the pageantry, special effects, world-class music, one-of-a-kind costumes and breathtaking stunts like Arabian Nights.
Second to none, witness this unique magical love-story on horseback filled with excitement, intrigue, mystery, romance and splendor. Be intrigued as the Prince summons the magical power of The Black Stallion (Walter Farley's legendary star). The Black Stallion's power must be used when the wedding is threatened by an uninvited guest, so beware!
Be transported back in time as your two worlds collide and blend into an ancient adventure that steps right off the pages of your favorite storybook tale. Beautiful horses from around the world are showcased in the world's largest indoor equestrian arena.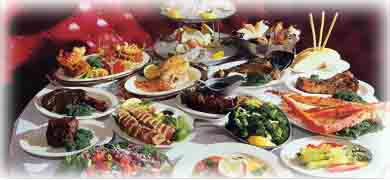 Not only will you enjoy Broadway-style live entertainment, but a scrumptious hearty meal prepared fresh at Arabian Nights. Indulge in a word-class 3-course meal including prime rib, chicken tenders, certified Black Angus chopped sirloin steak, grilled chicken breast or primavera penne pasta bowl (vegetable lasagna dinner), with unlimited beer, wine, and soft drinks.
As one of the oldest domesticated breeds of horses in America, bedazzled by their unique beauty, character, stamina and strength of these light-riding breeds. Their grace and sophistication makes them ideal in their very unique roles at the Arabian Nights show.
Imagine these beautiful animals from the around the globe showcased in one of the world's largest equestrian arenas in Orlando. But this is not just any event, your about to witness the majesty of a royal birthday party for a princess.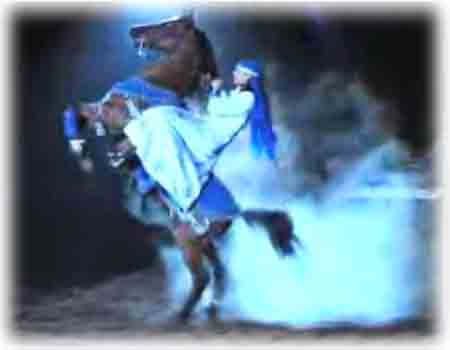 Discover an amazing new world of entertainment all portrayed on horseback as these stunning creatures bedazzle your entire family. Jump into the action as Arabian Nights brings a fairy tale to life before your very eyes. Be center stage for a this dramatic and touching story of love, romance and imagination.
Never have you attended wedding festivities filled with so many adventures and surprises. The guests of the Sultan at Arabian Nights include: Gypsies with powerful draft horses, Arabian horses with mounted Bedouins, a unicorn, a frightening villain horse with glowing eyes, and a painted Native American reining horse.
The majestic display of breathtaking horses and colorful costumes combine to create a celebration of the relationship between horses and riders that has marked human history.