| | |
| --- | --- |
| | Since we were kids the popular toys known as Lego have been around. These small bricks interlock to create whatever your imagination could think of. Now as we get older our kids our playing with these toys and its almost nostalgic. Now here in the Central Florida area you can dive into the fun and creative world of Lego when you visit the theme park! If just a small set of blocks can bring hours of entertainment just imagine an entire Lego themed theme park! This great park is a full days' worth of family fun and entertainment, a must for anyone visit the Orlando area. |
With the world of Lego constantly changing and expanding the Legoland theme park in California was more than a success. To bring that fun and excitement to the East Coast Lego has built a brand new Legoland theme park right here where Cypress Gardens used to be! With all new rides and attractions this theme park is quickly becoming a fan favorite for theme park enthusiasts around the globe.
| | |
| --- | --- |
| As soon as you walk through the large Lego archway at the entrance of the park you will be greeted by massive Lego constructs. From dinosaurs to medieval knights, here at Legoland you can find some of the most incredible creations scattered throughout the park, and located directly in the center you can find the gem of this theme parks creativity. Known as Miniland USA this area features every major city in the country recreated using Legos. From tiny Lego people moving about to ten foot tall master crafted building this area has it all! Find the Golden Gate Bridge, the Statue of Liberty, Daytona Speedway and even Kennedy Space center. This is where you want to have your camera out, because these awesome creations are jaw dropping. | |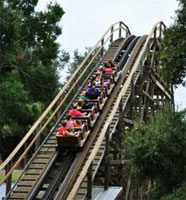 But what you really want to hear about are the rides. Here at Legoland you can find a wide variety of fun and entertainment, ranging from shows, roller coasters, carnival rides and more! Legoland is home to four separate roller coasters each with their own unique design and theme. From a hanging coaster to a traditional wooden track, whatever you're looking for you can find it here. Once you have had your fill of roller coasters head on over to the Land of Adventure, and take a wild ride through hidden tombs where your quick speed and aim can give you a high score. Then head over to the Imagination Zone for some fun with Legos where you can build whatever peaks your interest. A daily running program is where you get to build a car and race it down the track against other guests.
These are just a few of the many exciting rides and attractions at the theme park. With live shows and entertainment there is so much to see and do. Make your vacation to the Central Florida area special when you visit the Legoland theme park! Best of all you can save on your purchase when you buy your tickets through us! Make your vacation more affordable than ever with discount tickets today!