Captivating audiences of all ages, step back in time to the prohibition era of the 30's where gangsters ruled the streets of gangland Chicago. While Al still controls the North Side, your invited to be his special guest for dinner. Bedazzled with Capone's Broadway-style musical filled with comedy, singing, dance, and plenty of mad-capped entertainment.
No other Broadway-style production combines the pageantry, energy, world-class comedy, Broadway-style tap dance, and one-of-a-kind Italian cuisine buffet like Capone's Dinner and Show. Starting from the moment that you give the secret password "cherry coke" until the closing curtain, Capones will create memories for years to come.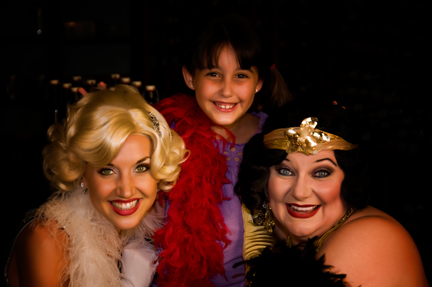 Second to none, witness this suspenseful drama of love-story on a live stage between newly weds back dropped with all the underpinnings of the Italian mob. Meanwhile tensions heighten when that chisel-faced thug Bugs Moran tries to move in on Al's territory. Hold on to your seat as the curtains open with a rousing Broadway-style cabaret featuring the one-and-only, Miss Jewel.

As your host for the evening, Miss Jewel will keep you on the edge of your chair with upbeat humor as dapper Bugs Moran cases the joint to wack that shiftless Fingers Salvatore. .Unbeknownst to Fingers, Bunny has invited her two sisters to come and live with her. Things start to heat up fast as the level-headed Miss Jewel tries to convince Bugs Moran not to take out Fingers. You'll be mesmerized as this off-the-hook live-stage storyline unfolds into suspense, clean humor, and lots of laughs. Make sure that you have an extra seat because one of Al's mobsters may want to stop in for dinner.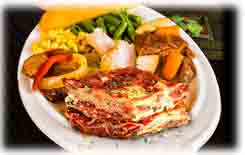 A blast from the past, there is never a dull moment at Al Capone's speakeasy. Since Al is a generous guy, Momma Capone is always cookin up fresh Italian cuisine for Al's friends. "Sit here and stuff ya face" says the gruff waitress while seating guests. At Capone's, satiate your palate with a one-of-a-kind scrumptious all-you- can-eat buffet Italian cuisine in addition to a selection of American favorites worth dying for..
Feast your eyes on heaping servings of lasagna, Pasta Marinara, Fettuccini Alfredo, Bread Sticks, Pasta Salad, Roast Turkey & Dressing, Garden Salad, Brown Sugar Glazed Ham, Slow-roasted Pot Roast, Green Beans, Italian Sausage Peppers & Onions, Corn, Macaroni & Cheese, and Mashed Potatoes.